★

And a little about hushpuppies

★
★

It's Savannah, Tennessee Y'all

★
Savannah Food Company has been in the food processing business since 1970 when Bob Hagy started making hushpuppies after decades in the restaurant business. The Catfish Hotel Restaurant, still in business today, became so well-known for its freshly made hushpuppies that Mr. Hagy built a processing facility to produce the same products his family had made for generations. In 2004, Savannah Food Company was purchased by John Bryan. John's family has been in the food business since the early 1900s when they founded Bryan Foods, Inc.
Our team commitment to food safety and high quality products is the responsibility of every person in the organization. This is accomplished by utilizing a strict hazard analysis and critical control plan (HACCP), good manufacturing practices (GMP) and global food safety initiatives (GFSI) that conform to statutory and regulatory requirements. Adherence to preventive control management, continuous improvement and quality control procedures ensures we exceed our customers' expectations. Additionally, our facility has FSSC 22000 certification since June of 2013. FSSC 22000 is a global food safety certification program conducted according to ISO standards and principles.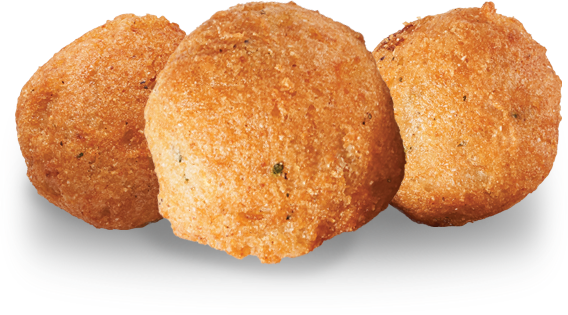 WHICH ONE DO YOU THINK IS THE ANSWER?
The oldest story has hushpuppies originating in the settlement of Nouvelle Orleans (now New Orleans) shortly after 1727. Ursuline nuns, who had come from France, created them by converting cornmeal into a delicious food they named croquettes de maise. The making of these croquettes spread rapidly throughout the Southern states thereafter.
Hushpuppies are also said to have gotten their name from the dredging of catfish that would normally have been thrown out. To avoid waste, cooks would instead add a little milk, egg and onion to the leftovers and fry it up. The fried dredging balls were then tossed to the dogs to keep them quiet while food was being transferred from the pot to the table. "Hush, puppy! Hush, puppy!"
The Morris Dictionary of Word and Phrase Origins cites a Southern reader's account that, in the South, the aquatic reptile called the salamander was often referred to as a "water dog" or "water puppy." These were deep fried with cornmeal dough and formed into sticks. Not necessarily regarded as a dish one would share with his or her neighbors, the lowly food became known as "hushpuppies."
Yet another origin story dates back to the Civil War. Soldiers were said to sit beside the campfire preparing their meals and, whenever they detected opposing soldiers approaching, they would toss their yapping dogs some fried cornmeal balls with the command, "Hush, puppies!"
And yes… the food eventually became the namesake of the famous shoe company.