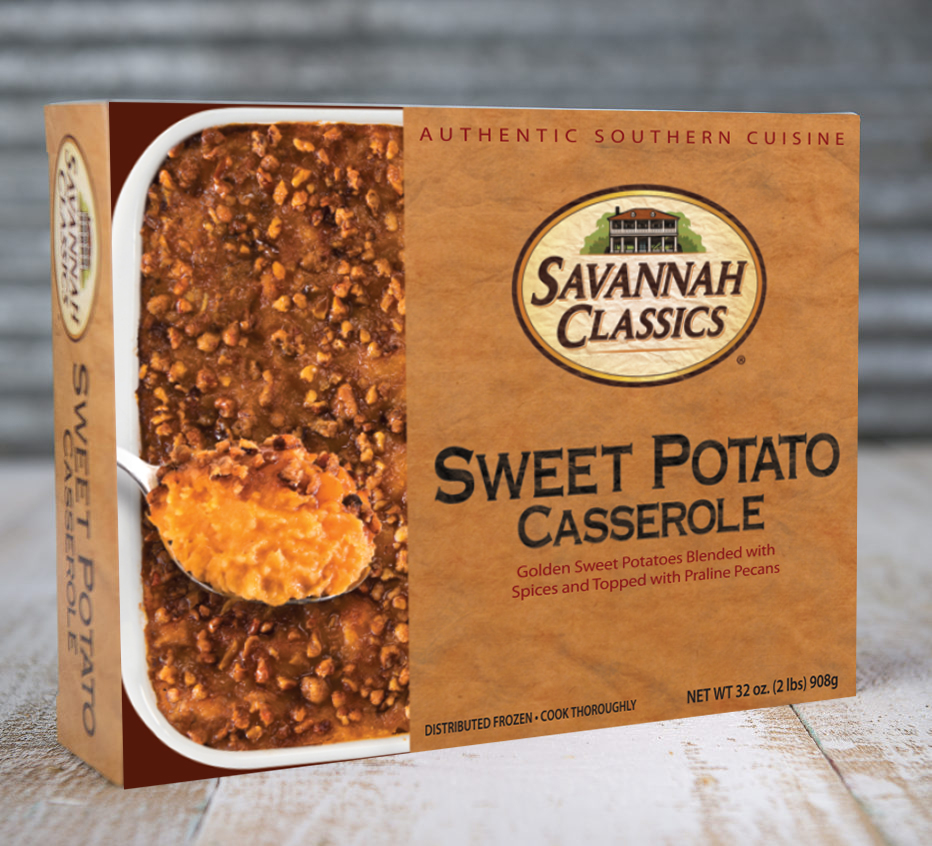 Sweet potatoes aren't only rich in flavor, but in vitamins, minerals and anti-oxidants, too! We combine diced and whipped sweet potatoes with creamy butter, sugar, cinnamon, nutmeg and other spices before topping it all with pralines to add the perfect crunch to this sweet treat.
This is also available as a foodservice item here.
FOR FOOD SAFETY AND QUALITY:
Carefully follow cooking instructions.
Internal temperature should reach 165° F.
Refrigerate leftovers.
Preheat oven to 375° F.
Do not put container in a convection or toaster oven.
Remove tray from box, remove film.
Place tray on cookie sheet on center rack of oven and
bake 55-60 minutes if frozen or 40-45 minutes if thawed.
Remove from oven and let cool 3-5 minutes before serving.
Remove tray from box but do not remove film.
(If frozen, thaw 15 minutes on defrost or half power)
Slit film lengthwise about 1 inch in middle of tray.
Cook 10 minutes on high power. Ovens may vary.
Let stand 2-3 minutes in microwave then carefully remove.
Remove film and serve.
INGREDIENTS: Sweet Potatoes, Sugar, Water, Brown Sugar, Praline (sugar, pecans, butter cream, natural flavoring, corn syrup, salt), Liquid Margarine (soybean oil, water, vegetable mono & diglycerides, salt, natural flavor (includes milk), Vitamin A palmitate added, Vitamin D3). Contains 2% or less: nonfat dry milk, food starch-modified, salt, spices, and cream plus vanilla (maltodextrin, lipolyzed cream and natural flavor).
Contains: Milk, Soy, Wheat and Eggs.
Shelf Life: Two Years
Gross Weight: 18.5 lbs.
Pallet (T-H-CT): 8×10=80
UPC Code: 0 75128 36006 0
Pack: 8/2 lb. Package
Case Cube: .70
Unit Size (L-W-H): 8 7/8 x 6 3/4 x 1 15/16
Net Weight: 16 lbs. (256 oz)
Case Dimensions (L-W-H): 18 3/8 x 13 7/8 x 4 3/4
GTIN: 300 75128 36006 1